Salam..First of all, i was shocked being chosen to be a student in UiTMT. I'm not expecting anything & thats what we called 'Rezki'..Is it..?Bout my experience in here, it was so cool when i found my friends. They are

Effa, Akq Nabilla, Nuha, Aizat, Uncle, Shazana, Mareena, Fazli,

Farhan, & Dewi

of course. We are just like siblings. But different mom & dad. Now i got my best friend forever.

BFF

.
Effa, Akq Nabilla, & Nuha.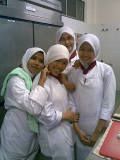 I love them so much. I'm willing to do everything for them. Hope our relationship last forever. Before i forget, i think in my 2nd kitchen i guess. Everythings is going well but suddently when i went to pray room i felt not so good. There was my friends. Give a helping hand. Thanks for being there. After i finished my prayer, then we have some last briefing from Mr Hairi Jalis, our ex-kitchen lecturer. The day was so hot. When i entered Management class, i feel like i can't feel the floor. After the class is dismiss, then i fainted. I can't opened my eyes for a second. Thank to Allah I got a caring friend. They all was helping me to bring me down stairs. Imagine, my weight just like a an elephant & imagine how they bring me down.

Andrienne, Wany, Piqa, K.long, Nuha, Akq

Nabilla, Shazana, Mareena

, Amalina, Ayu, Dewi, Ayu, Akq Giha, Erin, Atul, (

the one who help bring me down

), Effa (

the one who bring me to the hospital

), Rahman (the one who called ambulance ), Fazli, Farhan,Qayyum, Adhwa, (

The one who gave support to the girls who try their energy to bring me down

) .

Hehe.. :)

Tell me if your name is not listed then i can edit & put your name in my blog. Sorry i cant remember.. :D
Thank u so much my dearest friend. I love you so much...! Thanks for the memory. Hehe.. :) Too much memory for this sem. Experience with my ex-kitchen lecturer. We had our break-fast together, and Barbeque. Happy have him as our kitchen lecturer. He tought everything he know to us, sharing his experience as a lecturer, and student to us. We love you so much Mr Hairi Jalis. Thank you so much..!