When talk about holiday everything is about SHOPPING..!
I love shopping so much. For this holiday, my mom arranged everything for me. Let me tell you guys about my experience for this holiday.
23th January 2009
Excited to be back home.'Home sweet home'. Yet i'm gonna miss my friends in UiTM. My bus arrived at 12.00 p.m. It takes around 5-6 hours from Dungun to KL. Everyone is wishing take care. HE also wishing me too. Everything is going fine but i felt not feeling well on my way to KL.When the bus stop for a fuel,then i can't take it anymore because its killing me. So i've thrown out. Then my migrain in knocking my head. I've taking my medicine. Then my migrain is slowly cure. Alhamdulillah, i'm ok back. I arrived in KL around 6.00 p.m. My dad pick me up at 6.30 p.m. In car,we have some 'meeting' about a boy who i admire and about a secret. I can't feel the time is running. We arrived in home at 7.15 p.m. Then I run to get my mom. I just miss her so much..!
24 January 2009
I woke up early in the morning because i have a wedding to catch up in Setiawan, Perak. Its actually takes only 3 hours but plus with the jam,too much cars because of the public holiday then it takes 5 hours to go there. We arrived there at 3.00 p.m. All the food seems like finish but we are the 'VVIP's', so we get the bride's food. What the special menu is fried fish. I thought it just like in KL, Nasi Minyak with Ayam Masak Merah but in Setiawan, the menu is absolutely different. Nasi Minyak with Fried fish. Can you imagine..?hmmm... :) After finish up our food, then we are asking the bride's mother to go back home. Seems like rude but i can't stand the heat. Its killing me. At 11.00 p.m i was calling him for an hour. I just miss him so much..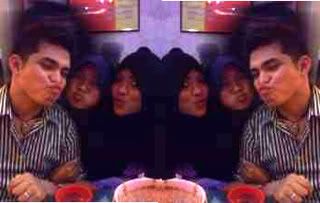 25 January 2009
I woke up early, clean up my room. Maybe today I just sit infront of my laptop until I can't saw the screen of my laptop anymore. :) I've planned to go for shopping at Jusco to buy a hair bleacher, lens, and a shirt for my friend. His birthday will be in 3rd February. I guess i want to buy a John Master shirt maybe or just a Renoma shirt. But i think i would like to buy a FCUK shirt at One Utama in Damansara. But i've not made up my mind yet. Which one is better..?hmmm...
:(
26th January 2009
Today,my mom planned to go to the One Utama Mall in Damansara. I've never been there. Quite excited. We've arrived around 2.30 p.m. We're searching for a parking,alhmdulillah we got one. Actually it was Chinese New Year. So a lot of shops was closed.A bit of dissapointed. But ok. We're just having our great time together. Watching a dragon dance. It makes me feel so happy because of the dragon is damn so cute. I also can learned a little bit of chinese culture. Such as the dance itself. Its all about a way of life. So much barriers to achieve something. One more thing after the dance is complete, the dragon will be given an ang pow as a compliments to them and as a Feng Shui or the person who give the ang pow will have a good luck.After watching it,we've decided to go to Mydin in Subang Jaya. Tomorrow we've a kenduri doa selamat in my house. So much thing to buy.We've arrived at home around 10.30 p.m.
27th January 2009
I woke up early today for helping my mom to cook food for the kenduri.My mom was asking my help to make a dessert and a Sambal Belacan for the guest tonight.The menu for the kenduri is Ayam Masak Merah,Ikan Tenggiri Masak Lemak Cili Api,Sambal Belacan and some 'Salad' (Ulam). :) hehe. The main function of the kenduri is to gather my family together because of now we hard to meet each other and to strengthen the relationship between the neighbour and of course the relatives itself.The kenduri ends around 12.30 a.m.Tired but happy because I can meet my cousins,my auntie so on and so forth.
28th January 2009
I woke up at 10 a.m because my sister and I have decided to hang out together at Mines Wonderland. I also have a lot of thing to buy. My mom gave me RM 50. I bring my own savings RM 200. My sister bring together her boyfriend.Faiez. Quite good looking boy. She walked with her boyfriend and i walked with my cousins that 5 years younger than me.We've watching a movie.'Maut'.Not bad.The movie really makes me realised about my sins.hmmm. :( After watching the movie,we go to the pray room to solat zuhur.After solat,I was buying a voir t-shirt,contact lens together with the solution,and of course the present for the birthday boy.I was buying him a Cheetah's shirt.The price is quite expensive but its reasonable for that type of shirt.We've arrived home at 6.30 p.m. After arrived home,my mom tell me that she wants to drive my father to the KLIA because he got a meeting to catch up in Tongi,Bangladesh.Then we arrived home safe and sound.
29th January 2009
After Zuhur,my mom,my sister,my cousin and I ready to go to Sunway to watch a movie. Bedtime story.It was my brother's treats.The movie was really great. Its all about a imagination.Everything in the story come a live.Just look at the actor. Adam Sandler.Of course the movie is great.After watching a movie,we've go to Popular book shop. I was really want to buy a Obama book. And i've buy one. The tittle is Obama 'Antara Islam,Israel,dan Amerika' written by Taufik Rahman. The book is all about the secret of the great personality of Obama.Then we've go to J Co cafe to buy some doughnuts. I love Tiramisu doughnut.The taste is great!you guys should have a bite.
30th January 2009
After maghrib,we drive to go to Downtown in Bandar Tun Razak.We just walking,watching and laughing together.I was searching for something that He likes.I'm telling my mom that He love liverpool. Then,my mom found something. My mom said that 'This is just right for him.' Then,i ask my mom to buy it for him.I was happy because I've something to give him.Small but meaningful.Around 12.30 a.m we decided to back home. Before that we go to the McD to buy some food.Actually we boycott it but I'm telling my mom that i really want to eat prosperity burger.Just for the last time I said.At home,I slept late because i've been busy to packing my stuff.I will be back in Dungun tomorrow.So its better i'm packing first.I've slept around 4 a.m.
31st January 2009
I woke up at 10.30 a.m.Have my bath and breakfast then my mom drive me to Mines to change the shirt for my friend because the salesperson gave me the wrong size.My sister and I was running because we are catching a time.My bus arrived 12 p.m.The time right now is 11.15 a.m.We run like crazy. :). Alhamdulilah,we arrived there just nice.When my mom searching for a parking,I'm searching for my bus.Sad to leave my mom.But I have to.
Thats my experience for this short holiday.Great,fun and awesome.